LINKS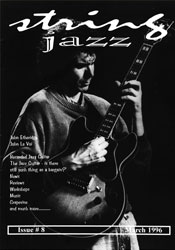 "HOLY GROSZ" (ARTICLE BY GEORGE MARTIN)
March, 1996
String Jazz, Issue 8
This article is presented complements of the author in PDF format for your reading pleasure.
READ HERE »
CHECK OUT THE
ARTICLES AND VIDEOS AT
JAZZ LIVES (Blog)
Created by Michael Steinman

READ HERE »
DEUCE AMBIENCE: JAZZ GUITAR WITH MARTY GROSZ AND HOWARD ALDEN
December 16, 2010
RIVERWALK JAZZ Radio Broadcast
Two contemporary giants of jazz guitar, Marty Grosz and Howard Alden, join The Jim Cullum Jazz Band at The Landing for a show devoted to a trio of early jazz guitarists—Lonnie Johnson, Eddie Lang and Carl Kress.
READ MORE »
REMEMBERING SOUTH PHILADELPHIA'S EDDIE LANG, 'FATHER OF THE JAZZ GUITAR'
Friday, October 22nd, 2010
Marty celebrates the life of Eddie Lang with guitarist RICHARD BARNES, the leader of the Blackbird Society Orchestra, a group of Philadelphia-area musicians that specialize in early American jazz music.
LISTEN HERE »
NORWICH JAZZ PARTY: THE KEN 'N' MARTY SHOW
May 8, 2010
ALISON KERR'S JAZZ BLOG
Among the many highlights of this year's Norwich Jazz Party was the return, to British shores anyway, of "The Ken 'n' Marty Show".
READ MORE »
2009 JAZZ AT CHAUTAUQUA
September, 2009
JAZZ LIVES (Blog)
Three articles (with videos) of Mary Grosz on stage at the 2009 "Jazz At Chautauqua":
MARTY GROSZ: "EARLY BENNY"
September 30, 2009
MARTY GROSZ IN THE GROOVE!
October 10, 2009
MARTY GROSZ LIKES IT HOT!
October 19, 2009
MY FATHER, THE FAMOUS ARTIST
To celebrate the great George Grosz, see his art and his son.
By Rosie Millard
The Independent
He is a prolific recording artist who cut his first record in 1950, has made star appearances in movies such as Tootsie and Bullets Over Broadway and is a renowned jazz champion of original and rare works. But compared to his "old man", as he calls his father, the radical satirist George Grosz, he's not quite in the same league.
READ MORE »
Marty Grosz Interview
October, 1992
Jazz Journal International, Vol. 45, No. 10 & No. 11
British publication
Jazz Journal International
published a great interview in 1992 that spanned two issues and is presented in PDF format for your reading pleasure
here
.
RIVERWALK JAZZ WESITE
: A weekly radio show devoted to classic jazz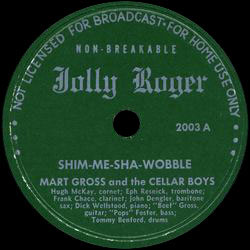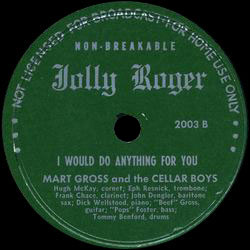 RANDOM QUOTES
"Electrified rhythm guitar is rarely successful if at all, particularly when we mean rhythm in the accepted swing era sense, that is strumming chords in a 4/4 time. When the production of the beat becomes too easy, when there is no resistance, then there's no bite, no incisiveness, and usually NO SWING."
- Marty Grosz, 1996
YOUR HELP
This website is a work in progress and I need YOUR help. If you have photographs, stories, album cover scans, or anything else to contribute to this website please contact
Thomas Cray